Creativity Abounds - December 2022 - Birthdays
Time for another Creativity Abounds Blog Hop! We are a group of very keen Stampin' Up!® Demonstrators from all around the world who are coming together to share our creative ideas with you. We are happy that you can join us and hope that we can inspire you to make creations of your own. You may be starting here or you may have come from someone else's blog - either way there is a list at the end of this post to help you move around all the different blogs and get many amazing ideas. We all have our country listed - so if you are looking for a demonstrator in your country, these demonstrators would love to look after you with your Stampin' Up!® shopping or if you would like to join our Stampin' Up!® teams.
Here's our amazing Creativity Abounds Design Team!
This month we're celebrating Birthdays. I've used the Stampin' Up! Simply Citrus Bundle to create a new fun fold (at least for me). I love this bundle - it's a Hybrid Embossing Folder which means you can embossed the images and cut them out at the same time.
Check out this accordion window fold - at least that's what I'm calling it. Isn't this a fun fold! I received a card at Stampin' Up! Onstage from Barbara F using this fold and I've adapted her measurements.
Instructions - Check out the video tutorial and template for more details
Cut Garden Green cardstock 4 1/4" x 9 1/2" for card base. Score at 1", 2", 7 1/2" and 8 1/2".
Measure down 3/4" from left edge and 1" scoreline and make a light mark with a pencil.
Repeat on right edge and 8 1/2" scoreline.
Cut from top of 2" scoreline on an angle to the mark on the 1" scoreline.
Cut from mark on left edge to mark on 1" scoreline straight across
Repeat on other side cutting down from 7 1/2" scoreline to mark on 8 1/2" scoreline.
Cut from mark on right edge to mark on 7 1/2" scoreline straight across
Accordion fold the scorelines in mountain/valley configuration on both sides.
For hinge, cut 2 pieces of Garden Green cardstock 2 1/2" x 3 1/4". Score at 3/4" and 1 3/4"
Fold in valley/mountain configuration.
Adhere 3/4" flap to front of left flap of card base with valley fold next to card base and aligned with edge.
Repeat on other side
Cut 2 panels - 2 1/8" x 3 1/4" and adhere to the left and right hinge aligned with edge of 3/4" flap
Cut 2 panels 2 5/8" x 3 1/2" and adhere to the 1" flap on left and right side of card base covering over 3/4" flap of hinge pieces.
Cut 2 pieces of Designer Series Paper 2 1/2" x 3 3/8" and adhere to the middle panels
Cut 2 pieces of Vellum Cardstock 2" x 3" and emboss using Simply Citrus Embossing Folder

Adhere to the front panels on each side
Stamp fruit using Pumpkin Pie and Daffodil Delight ink on Basic White cardstock
Cut out using Die
Stamp 4 sets of leaves using Garden Green ink on Basic White cardstock
Cut out using Die
Wrap Linen Thread around palm of hand. Remove and pinch in middle.
Adhere to the left front flap
Adhere fruit over thread using Dimensionals
Adhere fruit to right panel using Dimensionals
Stamp flowers using Pumpkin Pie ink on Basic White cardstock
Cut out using Die
Adhere to card base using Dimensionals
Adhere Brushed Metallic Dots on centre of flowers
Cut Basic White cardstock 4" x 5 1/4"
Stamp sentiment using Tuxedo Black Memento ink
Cut Designer Series Paper 1" x 5 1/4"
Adhere to bottom of Basic White cardstock
Adhere to inside of card
You can find all of the supplies for this card in my Online Store starting on January 5, 2023.
Now it's time to be inspired by all of the Projects in our Blog Hop!
I hope we have inspired you!
Shopping with Me!
Use the following links to PDF copies of the catalogues:
Interested in getting on my list to receive a 2023 Mini Catalogue and Sale-a-Bration Brochure? Click here to request a catalogue.
Please be sure to use the current Host Code 2NQJTNVF to receive a free gift from me. When you place a $50 order (before shipping and taxes) using the Host Code, I'll send you a Thank You card by mail and a FREE tutorial by email as a thank you. If your order is over $200, please do not use the Hostess Code as you'll qualify for Stampin' Rewards, but I'll still send you the Thank You card and tutorial!

You can also purchase this tutorial with 13 "Birthday" Themed tutorials for $20! Check them out in my Square Store!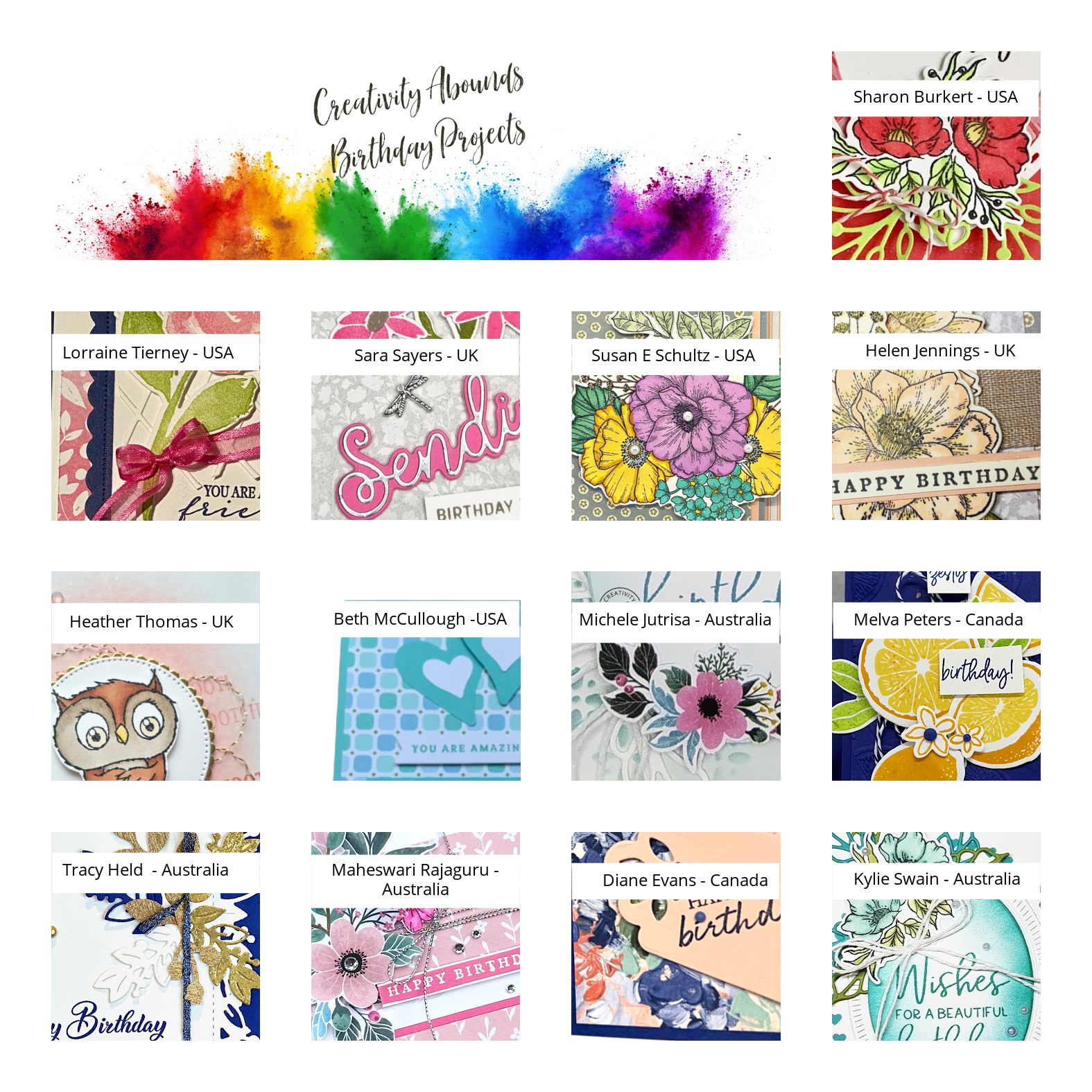 Creativity Abounds - December 2022 Birthday
$20.00
Buy now
Here's my Faux Step Card card that is included in the tutorial.
Monthly Card Club
I'm excited to be offering a Monthly Card Club either In Person or by mail. Each month I will select a stamp set or bundle to feature. You will make 3 cards with envelopes and receive 1/2 package of Designer Series Paper, package of Embellishments and a roll of ribbon. Cost is $45 In Person (or local pick up) and $50 mailed.

You can join my club monthly. If you join for 6 consecutive months and get a swag bag valued at $25 from me as a gift.

The In Person classes will be held on the last Sunday of each month from 10am to 12noon or 1-3pm. Space will be limited to 3 people per class and masks will be mandatory (as well as any other requirements announced by the Provincial Health Officer).


Registration is now open for the January Club featuring Country Floral Lane - this is a new suite from the upcoming Mini Catalogue. Registration closes January 8th. Check out the sneak peeks for January.



Your Creativity Awaits
The January Kit features Bottled Two Tone Flora - this is an amazing new suite from the upcoming January to April Mini Catalogue that you are going to love!

Do you love to craft and are you looking for a kit that ships directly to you each month with special perks each month? Then you will LOVE "YOUR CREATIVITY AWAITS"!

With "Your Creativity Awaits", each month you will receive an exclusive make and take kit (2 cards of 4 designs) plus a PDF Tutorial. All for only $60 per month shipped directly to you or $56 local pick up.


After 6 consecutive months of membership, you will receive a thank you of $25 product credit (before shipping and taxes) to spend on whatever you choose!

Each month, the Design Team will choose one stamp set or bundle and design fun projects for you to create. The stamp set is included in your kit. If you don't already own the dies or punch, you may add it to your kit or use what you have.

Featured stamp set - Two Tone Flora

8 Cards (2 each of 4 different designs) - designed by Your Creativity Awaits Team

Exclusive Project tutorials you can follow along with to create your cards

Extra product (value will depend on the price of the stamp set)

Cost

Porch Pick-up: $56 monthly

Add on Two Tone Flora Dies for $43 more (total is $103 mailed or $96 local pick up)

Your Creativity Awaits Kit Timelines

The upcoming kit information including supplies needed will be announced by the 15th of the previous month

Sign up must be done by the 2nd Sunday of the month

Kits will be shipped and tutorials emailed out by the 4th Tuesday of the month (subject to unforeseen delays in the shipment of product from Stampin' Up!)

Available to Canadian Residents Only